Certified Service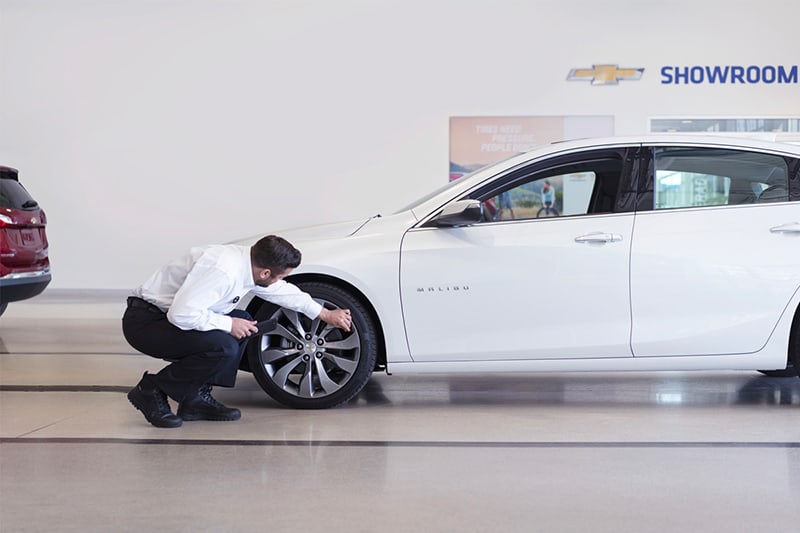 Service Offers and Pricing
We offer competitive prices on popular vehicle services such as oil changes, brakes, and tires.
Maintenance
Need New Tires?
Your vehicle's tires are the first and only contact with the road, so it is important to choose the right set when replacing them. Duncan Chevrolet Co., Inc. has Certified Service experts that will handle all of your tire needs. From checking tire wear to tire pressure our team can help you find new tires for your vehicle.
Find Tires
Need An Oil Change Near Stratford?
Your vehicle may be trying to tell you something – Oil Life Monitoring Systems let you know when it's time for an oil change. And our Certified Service experts can recommend what's best for your vehicle. Schedule an appointment today.
Learn More
Multi-Point Vehicle Inspection
With your Multi-Point Vehicle Inspection, you get a thorough assessment of your vehicle by the Certified Service experts. So protect yourself and your automotive investment with a comprehensive vehicle inspection at your Duncan Chevrolet Co., Inc. Dealer today.
The Multi-Point Vehicle Inspection form uses a simple color-coded key to assess maintenance terms:
Red indicates items that need immediate attention.
Yellow indicates items that should be addressed in the near future.
Green indicates no items to address.
Hearing Brake Noise?
Stopping power is crucial to a safe and successful driving experience. When you need brake service, visit Duncan Chevrolet Co., Inc. and our GM Certified Service experts will recommend quality new brakes.
Learn More
Battery Trouble?
Your vehicle's battery provides energy to start the engine, plus it supplies power to accessories when the engine is not running. The cold of winter and the heat of summer can affect your auto battery. See us for your vehicle's battery needs.
Learn More
Chevy Car Maintenance Near Stratford
No matter if you're behind the wheel of a new or used vehicle, you don't want to compromise when it comes to car maintenance around Stratford and Guymon, OK. That's why you can count on expert and trusted car repair and service at our Chevy auto service center at Duncan Chevrolet Co., Inc.. We have all the tools, knowledge, and expertise to help you stay on track of your suggested car maintenance schedule so you can continue to get nothing but the best from your particular Chevy model and trim level. Learn more about how you can utilize the outstanding services available at our auto repair shop and auto service center at Duncan Chevrolet Co., Inc. today!
Find Expert Car Repair and Maintenance
When it comes to auto service, you need a team of professional technicians you can count on to maintain the proper performance from your vehicle on Amarillo and Guymon, OK roads. We offer a wide range of car repairs and maintenance such as regular and synthetic oil changes, tire rotations, wheel alignments, transmission flushes, battery replacements, and so much more. Our one-stop-shop Chevy car maintenance center enables you to cross essentials tasks on your list as well as have the opportunity to catch any issues early on and get back behind the wheel in no time.
Schedule an Appointment at our Auto Repair Shop
As you can see, when it comes to reliable car maintenance in Stratford you can always count on the auto repair shop at our dealership to get you back on Amarillo and Dalhart roads in no time. Find more car repair and maintenance tips at Duncan Chevrolet Co., Inc. with our helpful auto service hub and see how you can save on your next visit to our auto repair shop with our rotating coupons and specials. You can even find OEM parts and accessories for sale while staying on top of your recommended car maintenance schedule. Contact us today for more details and to set up an appointment at our Chevy auto service center right here in Stratford!
Contact Service
Service: 806-417-0934
Parts: 806-417-0934
103 S Poplar St, Stratford, TX 79084